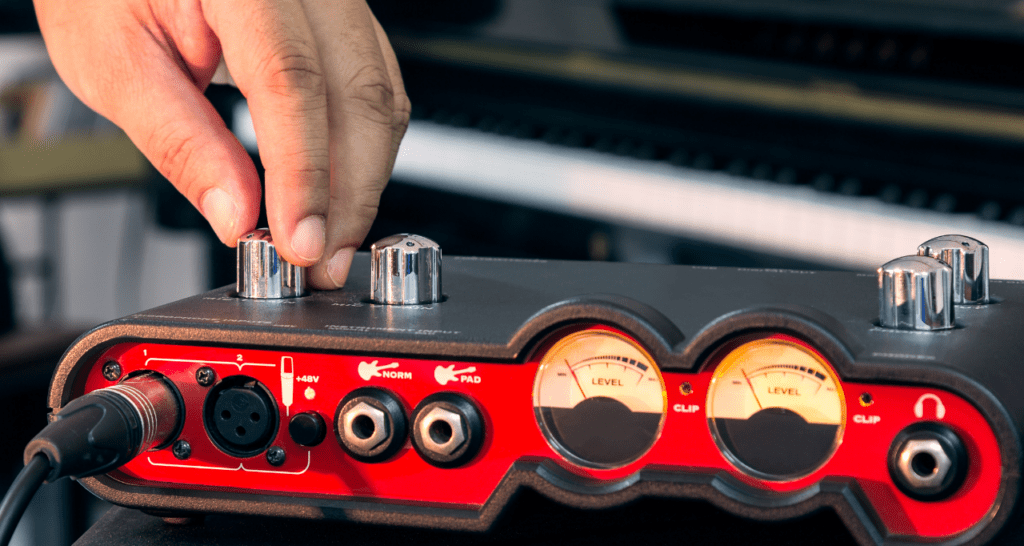 The Top 5 Audio Interfaces For Podcasters
Choosing the right gear can make or break your podcasting journey, and that's why we've compiled The Top 5 Audio Interfaces For Podcasters to guide you through the maze.
This article is more than just a list; it's a comprehensive review and features guide designed to first demystify what an audio interface does, and then help you pinpoint the one that best suits your podcasting needs.
Whether you're a newbie looking for your first interface or a seasoned podcaster aiming to upgrade your setup, we've got the lowdown on the best options available in the market.
Wait! Before we jump in we want to let you know that we're Amazon Associates and earn from qualifying purchases. This doesn't cost you anything extra and the money we make goes into creating more content.
Let's get into it.
What Is An Audio Interface?
An audio interface enables users to connect XLR microphones to their computer. They convert microphone signals into a format that computers understand and accept.
Audio interfaces come in various shapes and sizes, with different amounts of inputs and outputs, designed for connecting gear.
Your audio interface is where you'll also plug in your headphones and studio monitors. Audio interfaces typically sit on your desk and connect to your computer via USB.
Is An Audio Interface Right For You?
It's not necessary to use an audio interface with an XLR microphone. You could always use a handheld digital recorder. But, if you plan on recording into software or connecting remotely with folks, a quality audio interface is KEY for getting a great sound.
The Top 5 Audio Interfaces For Podcasters
Focusrite Scarlett Series
Focusrite has done a great job at integrating itself into the podcast community over the last few years. They have a variety of audio interfaces in their lineup, but, it's the Focusrite Scarlett series that's incredibly popular among podcasters.
And for good reasons.
The Scarlett interfaces start with 1 microphone input and go all the way up to 8 microphone inputs. In our opinion, it's always a good idea to buy a unit with more mic inputs than you think you'll need.
That way you've got all your bases covered if you add hosts or guests to your podcast.
The Scarlett series boasts pro performance preamps (preamps are what drive the level of your microphone). The pre's are low in noise and really transparent.
There's plenty of gain to cleanly crank up the quietest of dynamic microphones. These pre's are equipped with an added feature called "Air Mode".
When activated, Air mode adds extra clarity to your recordings.
Another thing we love is Focusrite's color system. When using a Scarlett, your levels light up in changeable colors. These are designed to let you know if you're not loud enough or if you're coming hot.
Start with green and dial in your gain until you start hitting the red.
Rad, no?
Features:
Phantom Power

USB C Connectivity

A/D Resolution: 24-bit/192kHz

Preamps: 1 – 8 depending on the model

56db of gain
Podcasters all over the world are using Focusrite Scarlett interfaces. They're simple, easy to set up, and provide excellent value for their price points.
If you're interested in grabbing one, make sure you purchase the 4th generation Scarlett series. That's the newest model available.
Zoom PodTrak P4 Portable Podcast Recorder
I know, I know, the Zoom PodTrak P4 is a portable digital recorder. BUT, it doubles as a USB audio interface, which is sick. It has some special features geared specifically toward podcasters, so we had to include it.
If you need the flexibility of a two-in-1 unit, you'll be delighted with this thing.
The Zoom PodTrak P4 has four microphone inputs, complete with phantom power. It's also loaded with four headphone outputs with independent volume control, so you don't have to worry about your counterparts bitching about levels.
They can get their cans dialed in on their own.
Do you host a call-in show?
If so, there's a TRRS jack for smartphones and a built-in mix minus for phone calls. If you don't regularly host a call-in show, you may not need this. But, you never know when it might come in handy, and the other features of this unit will likely still make it a worthwhile purchase.
There's also a mix-minus when connecting via USB. This allows seamless connection with remote recording platforms like Riverside.fm.
Last but not least are the four programmable sound pads. You can drop in your theme music or SFX on the fly. If you've got more of a live show, or a loose show that you record with friends, these pads could be really fun to use.
Features:
4 XLR microphone inputs

Programmable Sound Pads

Onboard audio processing

Mix-Minus for phone calls and USB

4 headphone outputs with individual volume controls

Battery and bus powered

70db of gain
The Zoom PodTrak P4 is a great little unit with exceptional functionality. You may not need all these features in this audio interface, but its preamps alone make it worth the money.
They pack a punch with 70db of gain. That's a lot of clean gain! Fear not hungry dynamic microphones!
PreSonus Revelator io24
Add power and flexibility to your podcasting setup with the Presonus Revelator io24. First off, it's looks bad ass. It's black, sleek and has digital meters on the front of it to visually track your levels.
This interface comes with two XMAX-L mic preamps with +48V phantom power. The high headroom XMAX pre's can cleanly amplify the slightest of whispers.
With the Revelator you can dial in your sound thanks to the onboard DSP processing tools. Start with the built-in eq and compression presets, then tweak your voice until it sounds the way you want it.
If streaming is part of your podcast strategy, the Revelator io24 is tailored to you. With the Stream Mix feature, you can set up a mix, complete with two stereo loopback channels and effects.
You're also able to set up a custom mix for every input and output.
Not satisfied?
When you purchase the Presonus Revelator io24, it comes with access to Studio One Artist, and a collection of free plug-ins. It includes emulations of gear from legendary manufacturers.
Such as, the Brainworx bx opto compressor, Lexicon MPX-i Reverb, SPL's Attacker Plus, and much more. Since these plug-ins are available in AAX, VST, and AU formats, they're compatible with any DAW.
With Revelator io24, you're getting much more than a remarkable piece of hardware. Your purchase includes a collection of terrific software, including, Studio One Artist, Abelton Live Lite, and the Studio Magic plug-in suite.
Features:
2-in/4-out USB audio interface

XMAX-L preamps

Onboard DSP with customizable presets

Stream to YouTube, Twitch, and Facebook with the Stream Mix feature

Digital VU meters

Free collection of classic plug-in emulations

Wireless control with free UC Surface 2 App
A hell of an interface for the price. If you're looking for clean pre's, with the added bonus of some excellent plug-ins, this may be the interface for you.
It'll level up your podcast production, no d0ubt.
RodeCaster Pro
The RodeCaster Pro is maybe the most talked about audio interface in the podcast world.
What makes it so exceptional?
Well, it's a studio in a box. A typical mixer allows podcasters to mix audio together, whether that be dialogue, music, or SFX. The RodeCaster Pro does all that and more.
It's a mixer on steroids.
The RodeCaster Pro can function as a mixer, recorder, and audio interface. It'll record into your computer or onto an SD card.
Users can record phone calls with it, as well as use it as an interface with Zoom, Squadcast, Riverside.fm, or other VOIP application of choice. It also has one-touch SFX pads, Bluetooth compatibility, and more.
Companion App
Furthermore, The RodeCaster Pro also comes with audio production tools through the Companion App. The Companion App comes with the following audio tools:
Compression

Noise Gate

De-Esser

High-Pass Filter

Aphex Aural Exciter

Big Bottom
If software isn't your bag, you can also access these tools on the mixer's home screen. There's a super-responsive touch screen, where the controls to all of these parameters lie.
These tools are available on each individual track.
The Companion App is also where you'll initially set up and register your RodeCaster, as well as update the firmware every so often.
Studio-Grade Microphone Inputs and Headphone Ports
The RodeCaster Pro features four microphone inputs. So, you can record a solocast, invite guests for interviews, or rock a full spod with your friends.
Each microphone port features independent gain control with up to 75db of clean gain. This ensures clear, crisp audio and a professional-sounding podcast, every damn time.
The ports on either side of the mixer also allow for easy monitoring from your studio headphones without ever getting in your way, or interfering with your mix.
There are 4 headphone ports, so, every podcast guest can wear headphones during the recording. Headphones are necessary to create a consistent tone and eliminate distractions during a podcast recording.
Touchscreen
Again, The RodeCaster Pro's claim to fame is its superior design. One feature users love is the intuitive, full-color touchscreen, for controlling all mixer functions with your fingertips.
This touchscreen is easy to read from any angle. There's no glare and it has plenty of brightness. It also includes both automatic gain control and studio-grade audio meters to ensure those levels are peaking in the sweet spot.
The design also includes one-touch controls for instant access to features you need most in your recording session, including gain, headphone levels, mute and solo controls, and access to the audio processing tools.
Professional Soundcrafting
The mixer also includes one custom-made, programmable sound effects pad with controls for effects send level and built-in EQ. This means that you can create your own customized sound effects library to use during your podcast.
It's also easy to upload those sounds to the storage location on your computer hard drive via USB cable, and you can store up to 64 different sounds at a time.
Like a radio host, you may want some sound effects ready to add a bit of fun to your podcast.
To add sound effects to your RodeCaster Pro system, you may click on program professional sounds in your mixer software and choose from one of several categories including animals, vehicles, and more!
Unparalleled Connectivity
Another one of our favorite features of the RodeCaster pro is its Bluetooth connectivity for connecting wireless microphones, a TRRS cable to connect remote guest devices, and 2-channel monitor output.
The mixer is also fully integrated with popular third-party remote recording platforms like Zoom, Squadcast, Riverside.fm. This means that podcast creators can connect with remote guests during recording sessions with great ease.
To ensure that your callers don't hear themselves on your podcast, the mixer also features mix-minus audio to prevent echoes.
Rodecaster Pro Final Thoughts
The Rodecaster Pro has pretty much everything you need. It looks and sound's great is super easy to use and has studio quality processing tools. You could literally start a podcast production company with it. If you can afford it, you should get it.
Apogee Duet 3
This women run company from Santa Monica, CA, has been pumping out top notch studio gear since 1985. In fact, their interfaces and analog to digital converters can be heard on countless hit records, and be seen in professional studios across the world.
While Apogee equipment is more or less designed for the music industry, it can certainly be used for podcasting, and it should be.
The Apogee Duet 3  is a 2-input audio interface, with world class preamps. This interface has the best preamps on this list, hands down. Apogee equipment is touted as having a "legendary sound", and we'd have to agree.
Sound quality is number one, but, this unit's beautiful design comes in at a close second. It's compact, with scratch-resistant cover glass, and backlit with purple LED lights. Also, Duet's controller knob has a futuristic feel.
With it, you can dial in playback levels and adjust microphone gain.
Apogee Control 2 Software
This new software gives you complete control of Duet's functions. It comes with audio processing tools that run on Duet's hardware DSP, and works with both Mac and Windows.
The Control Surface also comes in the form of an app, for iPhone and iPads.
Apogee Duet 3 Dock
The Dock positions the Duet at an ergonomic angle, so you can quickly make adjustments and see your meters pumping. The Dock's rear panel makes it easy to organize your cables.
Features:
Best in class mic preamps

Excellent Apogee AD/DA conversion

Low profile design with aluminum body

Scratch resistant top

2x Mic/line inputs

2x ¼" Balanced outputs
We're users and big fans of Apogee products at The Podcast Haven. Their stuff is pricier than most podcasters might be used to, but it's worth it.
Audio Interface Honorable Mentions
While our top picks are solid choices for various reasons, there are several other audio interfaces that deserve a nod. These may not have made the main list, but they're still excellent options for podcasters looking for quality sound.
Apogee Boom
Apogee Boom is a compact and portable interface that offers high-quality audio. It's a great choice for podcasters who are always on the move.
Features:
USB-C connectivity

24-bit/96kHz audio resolution

Built-in microphone preamp
SSL 2×2
The SSL 2×2 is known for its studio-quality sound and robust build. It offers two XLR/TRS combo inputs and is a great choice for podcasters who prioritize audio quality.
Features:
24-bit/192kHz audio resolution

Legacy 4K analog enhancement

USB-C connectivity
UA Volt Audio Interfaces
Universal Audio's Volt series offers a range of interfaces with varying input/output configurations. These interfaces are known for their high-quality preamps and real-time UAD processing.
Features:
Vintage preamp emulations

High-Z instrument input

USB-C connectivity
Focusrite VoCaster
The Focusrite Vocaster is a versatile interface that offers a range of features tailored for podcasters, including multiple XLR inputs and built-in audio effects.
Features:
USB-C connectivity

Onboard DSP for real-time effects

Multiple headphone outputs
iRig Pro
The iRig Pro is a highly portable interface that's compatible with iOS devices, making it a great choice for mobile podcasting setups.
Features:
24-bit A/D converter

XLR/TRS combo input

MIDI input/output
These honorable mentions offer a variety of features and price points, giving you even more options to find the interface that best suits your podcasting needs. While they may not have all the features of our top picks, they're reliable choices for capturing high-quality audio.
Closing Notes on Our Top 5 Interfaces
So you're on the hunt for the perfect audio interface to up your podcast game, huh?
Look, the options are plenty, but it all boils down to your specific needs and budget. If you're all about versatility and a ton of mic inputs, the Focusrite Scarlett series is a no-brainer.
For those who want a portable solution that doubles as an interface, the Zoom PodTrak P4 has got you covered. Need some killer preamps and a sleek design?
The Apogee Duet 3 and PreSonus Revelator io24 are where it's at. And let's not forget the RodeCaster Pro, the Swiss Army knife of podcasting gear that's practically a studio in a box.
The data and research here aren't just fluff; they're the real deal for making an informed decision.
Whether you're a solo podcaster or running a full-on production, these interfaces offer a range of features that can adapt to your setup.
So go ahead, pick the one that vibes with your podcasting style and get ready to capture some crisp, clean audio.
You've got this!
Check Out Our Blog Archive
Tired Of Hosting a Sh*tty Podcast? – Signup For Our Newsletter For Weekly Podcast Tips